2022 Giving Day
Thank you for supporting Act for Kids' Change for Kids Giving Day. In an effort to assist you with your fundraising efforts, we have provided a range of tools to help you to communicate with your friends, family and colleagues and seek support for your fundraising campaign.
Make a Change for Kids this Giving Day!
On Thursday 9 June, Act for Kids will be hosting our Change for Kids Giving Day!
Thanks to our generous sponsors every dollar raised during this campaign will be MATCHED – which means every donation will have DOUBLE the impact! Therefore, a $50 donation becomes $100!
In an effort to help us to achieve our fundraising target, we are asking our valued supporters like you to help us raise awareness, and funds, that can truly make a Change for Kids.
You can register to fundraise as an individual, or set up a team! This might be a fun activity for you and your family or colleagues to partake in!
From there, you simply:
Follow the prompts to create your fundraising page
Set your fundraising target
Share your page link across on your social media channels (and/or via email)
Watch your fundraising dollars accumulate!
This year – we have tried to make things as easy as possible for you! When you register on the Giving Day platform, you will gain access to a Fundraising Toolkit – which includes everything you need to support your fundraising efforts!
For more details, or to register please visit https://www.charidy.com/actforkids
Imagine the change we can make in a single day! Together, we can continue to make a Change for Kids.
4-year old Millie has experienced significant trauma and neglect since birth.
Her parents struggled with substance and gambling abuse. When Millie was 3, she was found unattended in a car while her parents gambled in a local tavern. She was found covered in her own bodily fluids, and suffering extreme heat exhaustion.
Millie was removed from her parents' care and referred to Act for Kids' Integrated Therapy Service by child protection authorities. Her psychological and physiological development was well below what was expected of a child that was almost 4-years old.
She had unpredictable behaviours, was unable to regulate her emotions or communicate. She had trouble speaking and would often grunt or gesture if she needed something. She often looked away when distressed, hid, froze or adopted the foetal position.
Act for Kids' Integrated Therapy team– which included a Speech Pathologist, Occupational Therapist and Psychologist – worked together to create a treatment plan that was tailored to Millie's specific needs.
It is going to take some time for Millie to heal completely, and become school ready, but we are optimistic that with continued support, we can help Millie to heal from trauma.
Images for your Story (to be posted on 9 June)
Add the link: https://www.charidy.com/actforkids , hashtag #changeforkidsgivingday and tag @actforkids to each story tile.
Examples provided:
Story Tile 1: Add the links, tags and hashtags.
Story Tile 2: Add image, tag 5 friends and tag @actforkids
Story Tile 3: Add the links, tags and hashtags.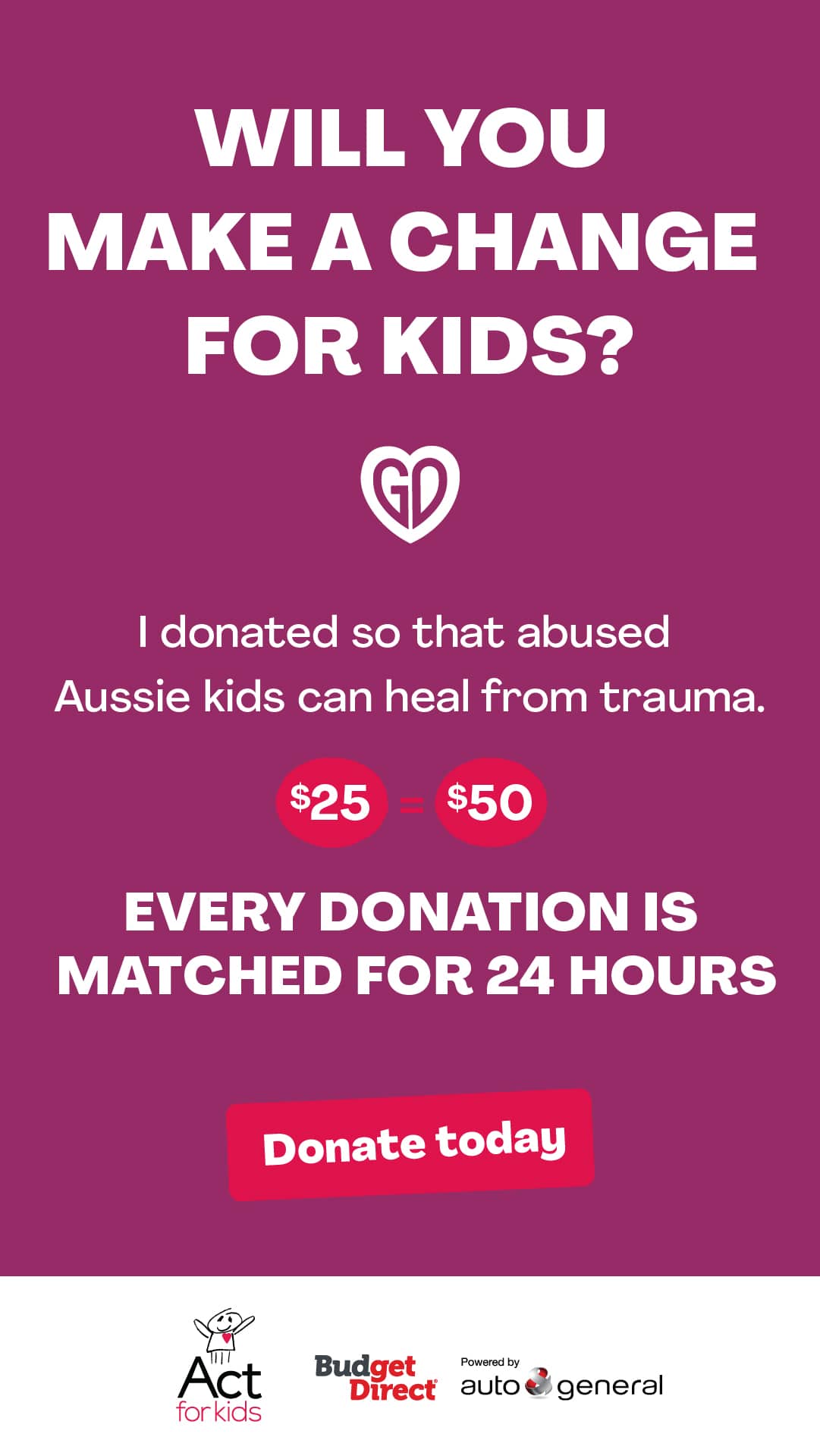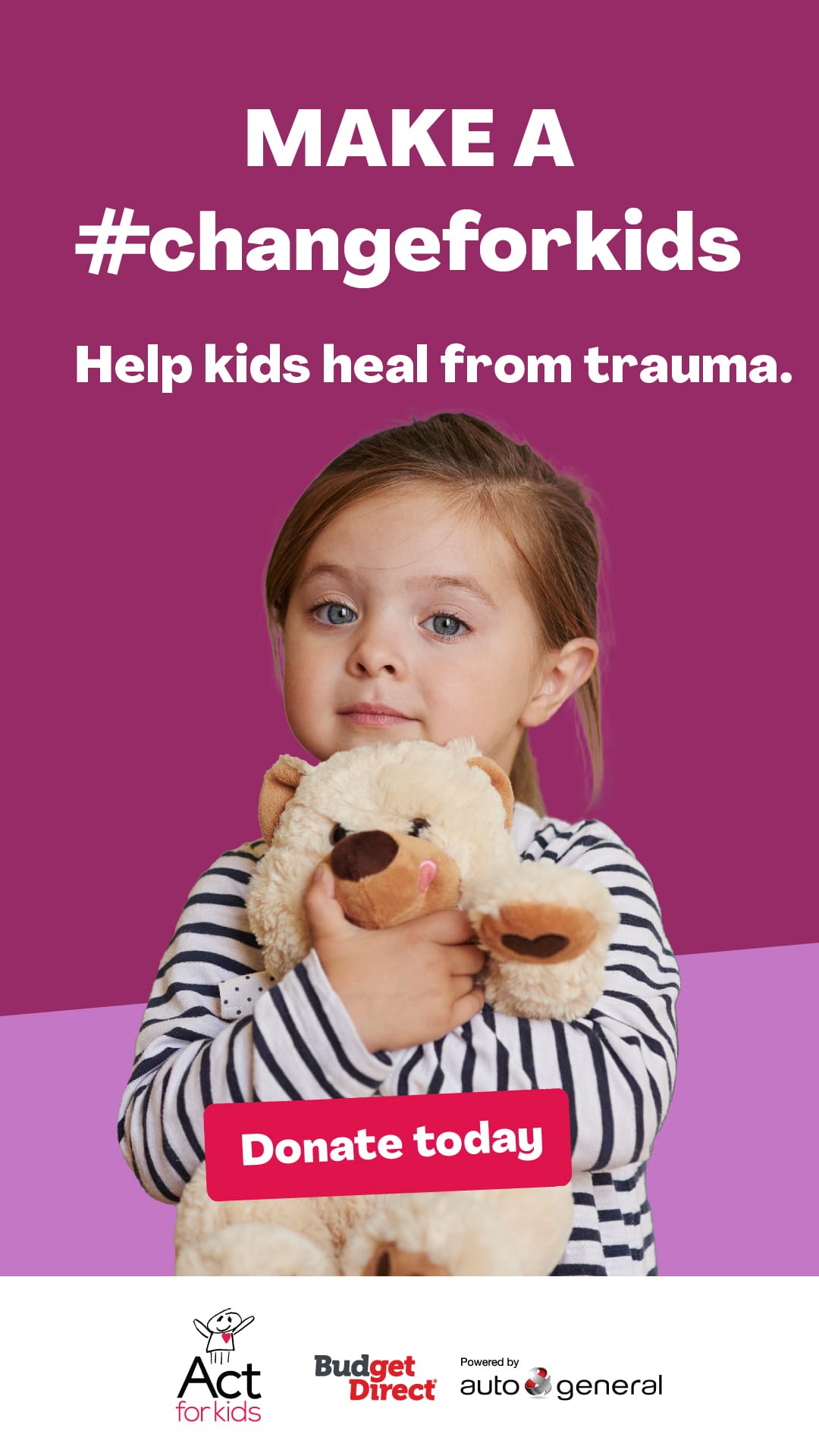 Assets to support your fundraising
Please feel free to download the following assets to demonstrate your support of Act for Kids' Change for Kids Giving Day.
Act for Kids Giving Day 2022 Information Pack
Digital advertisement (i.e. to be included in email communications)
Email signature (supporter)
Act for Kids Giving Day 2022 Poster (Schools)
Act for Kids Giving Day 2022 Poster (Corporate)
Email Signatures (Supporters)